The EU Ecolabel is the official European environmental label for non-food products and services. It is supported by all EU Member States, the European Commission and Norway, Liechtenstein and Iceland.
Products and services with the EU Ecolabel are produced more sustainably. The quality mark therefore sets strict requirements to the use of raw materials, energy, water, harmful substances, waste and packaging.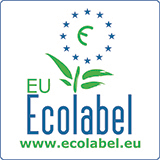 Senzora offers the possibility to certify your products with the Eu Ecolabel. All products of the Klok brand carry the EU Ecolabel.
Go to europeesecolabel.eu for more information about the EU Ecolabel.